Home History Albums Video Listen Whanau Korero Site
---
Through 30-plus years, eight albums and almost 30 members, Pacific reggae band Herbs
have remained vital, described in one edition of the Who's Who of Australian Rock as
"New Zealand's most soulful, heartfelt and consistent contemporary musical voice".
At their height they were a multicultural, sociopolitical powerhouse delivering
up-to-the-minute denunciations of the Crown's treatment of Maori land rights
protesters and so-called Pacific Island overstayers, organised religion, French nuclear
testing and Japanese drift-net fishing in the Pacific, even South Africa's apartheid
system, all cleverly disguised in a palatable reggae rhythm. And they weren't afraid
to throw in the occasional memorable love song along the way.
Three decades after their formation, Herbs were bestowed their greatest honour
when they became just the 11th inductee into the New Zealand Music Hall of Fame.
Pacific Islanders Toni Fonoti (vocals), Spencer Fusimalohi (guitar) and Fred Faleauto
(drums) formed Back Yard in the mid-1970s to play gigs around their Ponsonby, Auckland,
home. They were later joined by bass player Dave Pou and an initially part-time member
in Maori guitarist Dilworth Karaka, the most experienced musician among them.
They briefly considered changing their name to Pacific Herbs before rechristening
the band Herbs in 1980. By this time, Karaka was permanent, John Berkley had replaced
Pou, who left to serve in the New Zealand Army, and the band had found a manager in
Polynesian Panthers co-founder Will 'Ilolahia.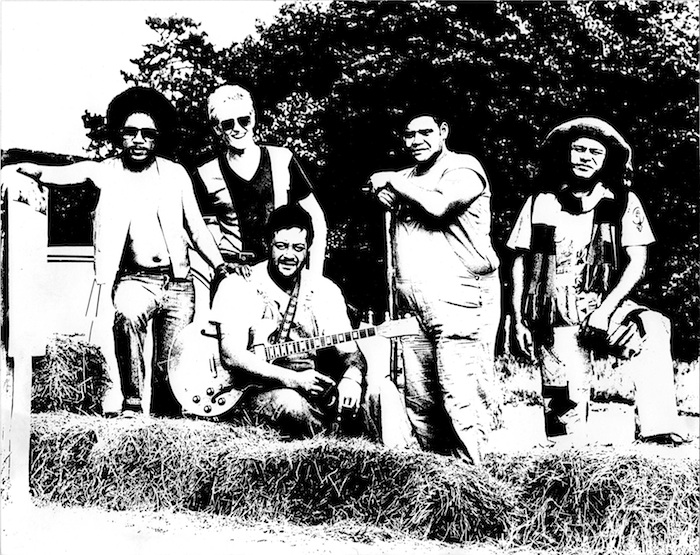 Herbs 1980 (left to right): Spencer Fusimalohi, John Berkley, Dilworth Karaka,
Fred Faleauto, Toni Fonoti.
During the first half of 1981, Herbs reached a national audience in the tens of thousands
with an appearance at the Sweetwaters festival on Ngaruawahia farmland and as support act
for Stevie Wonder at Western Springs.
On a beautiful January day, with Fonoti in lava-lava and straw hat, the band announced their
arrival at Sweetwaters with the a cappella opening of Third World's "1865 (96 Degrees In
The Shade)" before launching into their own songs.
Three months later, the band again opened with the cover at the Wonder concert. However,
the massive crowd was forced home when heavy rain saw the show cancelled before the
main act took the stage. As Fonoti would later recount, "They couldn't go home and say,
'Hey, we saw Stevie Wonder,' they had to go home and say, 'Hey, man, we saw Herbs.'"
Just as the band were preparing to record their debut release, Berkley quit and was replaced
by Phil Toms. By his own admission, Berkley "quickly discovered a very limited palette" in
his playing while working on parts for the songs. A graphic artist by trade, his lasting
contribution to the band was to design the distinctive Herbs logo which would come to
outlast his tenure thirtyfold.
Herbs had now caught the eyes of Mascot Recording Studio boss Hugh Lynn and WEA
Records. A former Latin American dance champion, compere and nightclub owner, Lynn
was becoming New Zealand's top rock promoter and he recognised Herbs' potential
when they appeared at Mascot to record what would become their debut release.
On the eve of an unpopular rugby tour of New Zealand by apartheid South Africa, Herbs'
six-song EP Whats' Be Happen? was released on their own Warrior Records in July 1981.
The cover featured a photo of the controversial eviction of Maori land rights protesters from
the disputed Bastion Point in Auckland.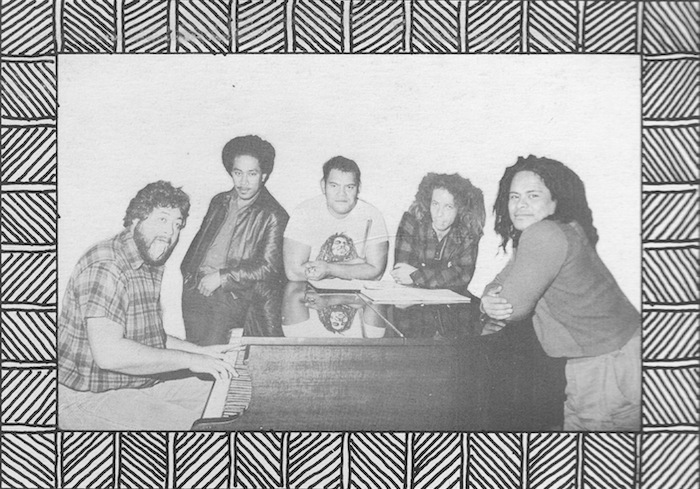 Herbs 1981 (left to right): Dilworth Karaka, Spencer Fusimalohi, Fred Faleauto,
Phil Toms, Toni Fonoti.
The politically charged record led off with law student Ross France's
"Azania (Soon Come)" -- Azania being the name given to South Africa by black nationalists
during the struggle to achieve majority rule -- with its verses referencing political activists
Steve Biko and Nelson Mandela.
That was followed by the social commentary of mainly Fonoti's lyrics in
"Dragons & Demons", "Whats' Be Happen?", "One Brotherhood" (written solely by
Toms), "Whistling In The Dark" and the tribute to Bob Marley "Reggae's Doing Fine".
In the following months, the band held their own as support act on the New Zealand tour
of Black Slate, who were riding high in the charts with their hit song "Amigo", and
then the UB40 concert at the Mainstreet Cabaret in Auckland.
Herbs' first single, released a year later, was "French Letter", a protest of French nuclear
testing in the Pacific Islands. The song spent 11 weeks on the New Zealand charts,
peaking at number 15.

Herbs 1982 (left to right): Morrie Watene, Toni Fonoti, Spencer Fusimalohi,
Fred Faleauto. Phil Toms and Dilworth Karaka absent.
Saxophonist Morrie Watene was added to the line-up and Alan Foulkes joined for a period
on percussion, but Phil Toms left the band after "deterioration of relations" with main
songwriter Fonoti and was replaced by Jack Allen. Ironically, Fonoti departed soon
after.
With the others more into the reggae music, the dreadlocked Fonoti was keen to explore
the Rastafari philosophy and began studying the Bible and the Twelve Tribes of Israel
branch of the Rasta movement. When a new record deal and a sponsorship from a fast food
chain were put before the band, Fonoti asked for time to weigh up his options.
He disappeared to the country, concerned whether Herbs was authentic enough for his new
adherence to the Rastafari message. Unable to make a commitment to the band, Fonoti
eventually gave them his blessing and bowed out.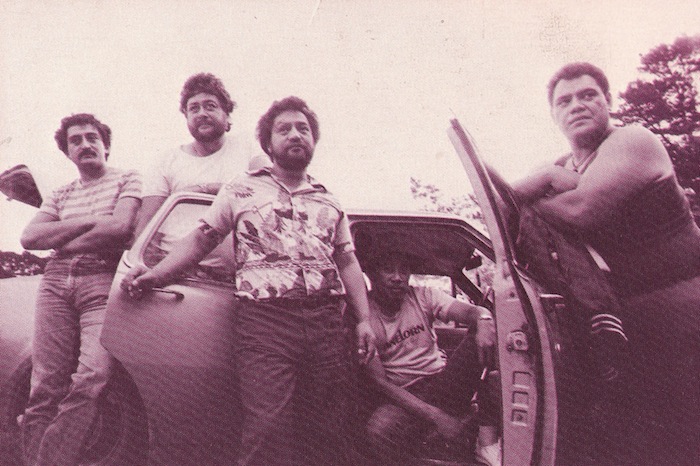 Herbs 1983 (left to right): Jack Allen, Dilworth Karaka, Morrie Watene,
Spencer Fusimalohi, Fred Faleauto.
Herbs undertook what would become a regular excursion when they toured the Pacific
Islands in 1982, and later released their second EP Light Of The Pacific. It opened
with "French Letter" but saw Fusimalohi come to the fore on "Jah's Son" and "Mama's Song".
In the absence of Fonoti, Fusimalohi thought, "We've gotta try and do something to keep
the band alive" and took on more responsibility in providing new material. Faleauto
provided "Crazy Mon?" and a percussion tour de force arrangement of "Meteli" before the
record closed with the title track, the verses of which had been left behind by Fonoti with
a chorus written by Karaka.
Herbs were reacquainted with UB40 and met Toots & the Maytals at the Sweetwaters
festival in 1983 where UB40 christened Herbs' brand of music Pacific reggae. The
Birmingham band invited Herbs to be their support act for a European tour later in the
year, but it wasn't to be when Herbs were unable to raise the cash required to get
themselves and their equipment to the northern hemisphere.
Soon after Sweetwaters, Herbs toured the South Island with sidemen Tama Lundon
(keyboards) and Carl Perkins (percussion) to help replicate the likes of "Light Of The
Pacific" in concert, and by tour's end both were added permanently. While dairy farming
at Purakau, north of Whangarei, Lundon had appeared off and on with Herbs since the
start of the decade, but as they became more popular he chose the band ahead of farming.
However, Fusimalohi felt things weren't working out for him monetarily and in being apart
from his family and he left soon afterwards. That July, the 8 O'clock newspaper
announced guitarist Willie Hona as Herbs' new frontman. It said the band had "teetered
on the edge of a permanent split" and that "it seems the promise of a confirmed tour of
Polynesia in August, Hong Kong dates set for October and a possible European tour with
UB40 beyond that, is keeping Herbs alive".
Hona was a successful Auckland cabaret act who had already released singles as a solo artist
and as part of Northland band the Face, which launched Kiwi pop idol Mark Williams.
He and Lundon clicked immediately and started writing songs together while working as
a duo with a dodgy drum machine at the Pioneer Hotel.
With Will 'Ilolahia relocating to Tonga, Hugh Lynn took on the management role and
began putting pressure on the band to adopt a more professional attitude. There were now
regular rehearsals and set lists and Lynn began working them hard in an effort to up their
profile. 'Ilolahia remained involved as international tour manager when Herbs were in
Australia or the Pacific Islands.
There was an excitement within the band as they returned to Mascot with producer
Billy Kristian to record their new album. Long Ago was released at the end of 1984
and featured future live staples in the title track, the beautiful ballad "On My Mind" and
"Nuclear Waste" -- all written by Hona and Lundon, the latter with Rob Van De Lisdonk --
as well as songwriting contributions from the entire band.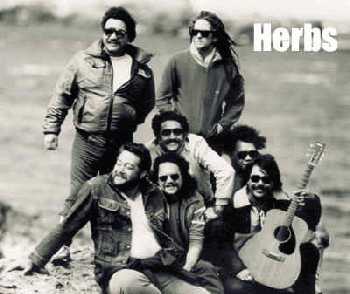 Herbs 1984 (clockwise from top left): Morrie Watene, Carl Perkins, Fred Faleauto,
Willie Hona, Jack Allen, Tama Lundon, Dilworth Karaka.
On December 7 1984, Herbs were the first act of a free concert in Aotea Square that
deteriorated into the Queen Street Riot. The concert -- dubbed Thank God It's Over --
to celebrate the end of the school year also featured the Mockers and DD Smash. When
power failed early in headliner DD Smash's set and some of the 10,000 crowd grew restless,
police shut the concert down and people poured into Queen Street smashing property and
looting, causing an eventual $6 million worth of damage.
Herbs spent part of 1985 based in Australia, including supporting Rick Wakeman on
a national tour, as Lynn and Australian promoter Michael Chugg put together a plan to
break the band overseas. However, the heavy touring schedule took its toll and the band
faced more line-up changes when Perkins and Allen departed to form Mana.
The prestigious Tina Turner support at Mt Smart Stadium, Auckland, on December 7 1985,
marked the first appearance of percussionist Thom Nepia, an old friend of Hona's.
It was Nepia's 28th birthday. In the new year he was offered a permanent place
in the line-up when Perkins left.
Allen's spot was taken by Karaka and Watene's cousin Charlie Tumahai.
Tumahai had left New Zealand in 1966 and spent time with some of Australia's
best bands, eventually journeying to England with Mississippi, an early incarnation of
the Little River Band.
When Mississippi disbanded he joined Be Bop Deluxe, recording five albums and touring
the United States eight times with them, and later formed the Dukes with former Wings
guitarist Jimmy McCulloch. In 1985, Tumahai decided it was time to return home.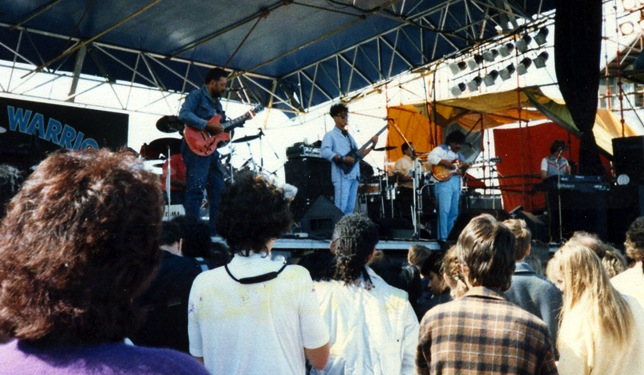 Charlie Tumahai debuts with Herbs, Rainbow Warrior Music Festival, 1986
(left to right): Dilworth Karaka, Tumahai, Thom Nepia, Willie Hona, Tama Lundon.
His first gig with Herbs was also at Mt Smart Stadium, for the Greenpeace Rainbow
Warrior Festival in April 1986, alongside Neil Young and a re-formed Split Enz. The
concert was a fundraiser to help float a new Rainbow Warrior after the bombing of
the original vessel in Auckland the previous July.
Herbs toured throughout the Pacific in 1986 and performed at the Hiroshima Peace Festival
in Japan while between times recording their new album, again with Billy Kristian at
Mascot. Their distinctive vocals were an integral part of Dave Dobbyn's transtasman
number one "Slice Of Heaven" the same year.
Dobbyn would later write, "Recording with the Herbs was a whole lot of fun. To have their
wonderful voices on this tune sounds so right and it was an honour for me," and
"Graceland was out that year so it had a small influence on the 'Da da da's'."
The next album Sensitive To A Smile was released in June 1987 with a launch at
the Mangahanea Marae in Ruatoria in an effort to help ease tensions between local
Rastafarians and the community amid a spate of arson attacks.
Held back so as not to compete with "Slice Of Heaven", the album opened powerfully with
an a cappella arrangement of the traditional Maori waiata "E Papa" and never let up until
the last strains of closer "Jah Knows".
Sensitive To A Smile also revealed a new collaborator for Herbs in the form of San
Franciscan poet Todd Casella, then resident in Wainui Beach, Gisborne. A fan of the band
since his arrival in New Zealand, Casella made himself known after a gig in the area and
began offering his poems as song ideas.
The title track was the first single and peaked at number nine on the New Zealand charts.
"Rust In Dust" got as high as 11. The album was judged best album at the New Zealand
music awards while Dilworth Karaka and Charlie Tumahai won songwriters of the year
for "Sensitive To A Smile".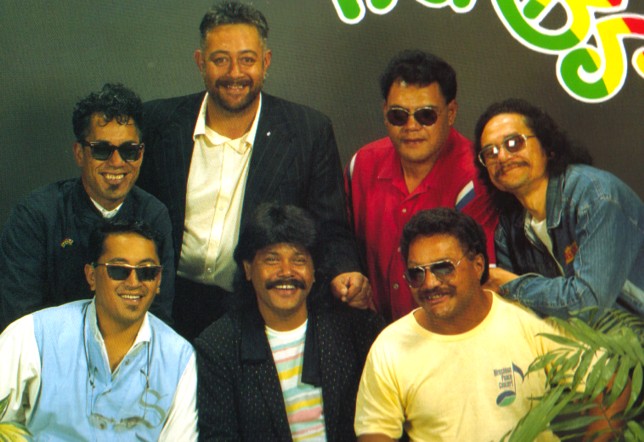 Herbs at their late 1980s commercial peak (clockwise from top left):
Charlie Tumahai, Dilworth Karaka, Fred Faleauto, Tama Lundon,
Morrie Watene, Willie Hona, Thom Nepia.
Big things seemed in store for Herbs in 1988. Mushroom Records released
Sensitive To A Smile, with a drum-heavy remix of the title track, in Australia.
But that was when the wheels started to fall off.
According to New Zealand rock music archivist John Dix, "Fred Faleauto had an epiphany
midway through a soundcheck, suddenly reciting large chunks of the Bible, screaming like
a preacher in full flight, freaking everyone out." The last link to the band's earliest
Back Yard days, he left in June 1988.
Herbs recruited long-time Auckland session drummer Gordon Joll, late of Satellite Spies,
and when Sensitive To A Smile's third single, "Listen", another Hona/Lundon gem,
rose to number seven in October 1988, things looked to be back on an even keel. However,
Willie Hona departed during an Australian tour the next month, with Nepia and Watene
taking over his vocal parts and Karaka taking on his guitar duties.
Lynn's aim to have Herbs on a par with the top Australian bands of the time saw them on
the road, away from their families for long periods, with a big PA system, lights and
roadies. The downside was there was very little money left for the band after expenses,
and Hona decided he couldn't continue.
In June 1989 they were back in the higher reaches of the New Zealand charts when
they contributed to Tim Finn's single "Parihaka". The song had already appeared on his
Hollywood-recorded, self-titled third album but Finn was convinced to re-record it
with a sympathetic New Zealand band. The new version peaked at number six.
Earlier that year, the six-piece Herbs settled in to record a new album with none other than
former Eagles and James Gang guitarist Joe Walsh as producer. He had been touring in
Australia and when WEA head Tim Murdoch mentioned he was available to produce,
Lynn saw it as an opportunity too good to pass up.
While Herbs and Walsh were on the bill of Greenpeace concerts in Wellington
and Auckland, Walsh immediately took the band and New Zealand to heart,
announcing he would move to the country and become a permanent member of Herbs.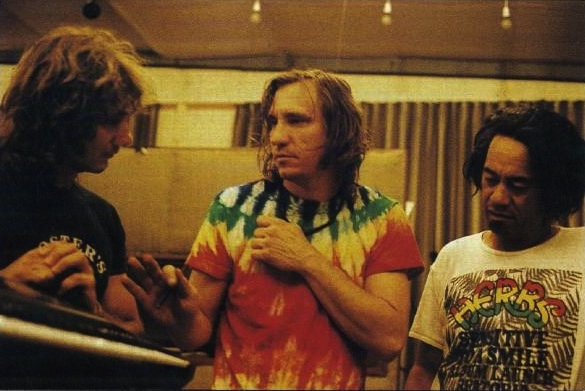 Joe Walsh in the studio with Herbs rhythm section Gordon Joll (left) and
Charlie Tumahai, 1989.
Photo courtesy of Gordon Joll.
Midway through the sessions Herbs toured town halls and theatres with Walsh as their
"special friend", but he had gone back to the States permanently by the time
Homegrown was released in 1990.
The album confused Herbs fans, opening with an a cappella verse of "Amazing Grace",
perhaps in an attempt to match "E Papa" from the previous album, followed by
the first of two Joe Walsh vocals. In fact, the three Walsh songs on the LP would surface
on his own recordings over the next two years.
Homegrown also included covers of Left Banke and Merle Haggard hits, and the
only links to Herbs of old were "Anthem", "Homegrown" and a new version of
"Azania (Soon Come)" from Whats' Be Happen?. Later versions of the album
featured bonus track "Talkback Radio", their theme song for The Billy T. James Show.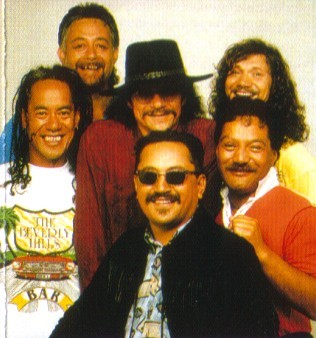 Herbs 1990 (clockwise from left): Charlie Tumahai, Dilworth Karaka,
Tama Lundon, Gordon Joll, Morrie Watene, Thom Nepia.
Their highest-charting New Zealand single, "Listen", was a recurring theme in
Cheech Marin's 1990 Australian movie The Shrimp On The Barbie, and Herbs
even featured as a restaurant band in its final scene, covering Peggy Lee's 1948 hit
"Mañana (Is Soon Enough for Me)".
With Lynn heading for bankruptcy and Homegrown a commercial let-down, band and
manager had started arguing and eventually parted ways. Proposed support slots
touring with UB40 in Europe and Joe Walsh in the United States had both come to
nothing in the previous few years.
Lynn had poured a lot of money into Herbs' career and they had benefited greatly from his
industry connections, touring with or supporting the likes of Black Slate, UB40,
Stevie Wonder, Neil Young and Jimmy Buffett in New Zealand throughout the 1980s,
but when their equipment was placed in bondage in Fiji and the Fijian promoter
imprisoned during a Pacific tour in 1991 that was the last straw.
That year also saw the release of former frontman Willie Hona's solo album Keep An Open
Heart, featuring co-writes by Hona and Todd Casella, who was also executive
producer, and the musical backing of current and former Herbs members Gordon Joll,
Carl Perkins, Jack Allen and Tama Lundon.
Herbs featured on single collaborations in the early 1990s -- Annie Crummer's joyous
"See What Love Can Do" and the questionable "Till We Kissed" with '60s icon
Ray Columbus -- but there would be no new album.
Neither the spirited vocals of Tumahai nor the searing guitar of new addition Tama Renata,
who had earlier contributed to Light Of The Pacific, could save "Till We Kissed",
but it was included on 1993's 13 Years Of Herbs: The Best Of, which spent 10 weeks
on the charts, rising to number 14.
After a period of live inactivity, the release of The Best Of sparked the band to life.
Karaka and Tumahai ventured to Auckland's premier live venue, the Gluepot, to offer the
drummer's spot to Grant Pukeroa but were so impressed by his fill-in for the night,
Kristen Hapi, that they successfully offered it to him instead. Pukeroa would, however,
take the role two years later when Hapi moved on. Juanito Muzzio took over percussion
for the absent Nepia.

Herbs 1993 (clockwise from top left): Tama Renata, Kristen Hapi, Morrie Watene,
Dilworth Karaka, Juanito Muzzio, Charlie Tumahai, Tama Lundon.
Karaka, Tumahai and Renata wrote the main love song "Here Is My Heart" for the 1994
New Zealand blockbuster movie Once Were Warriors, for which Renata also
provided the memorable instrumental theme. Tumahai even made a cameo appearance
in the film as a karaoke singer.
The band came on all Motown for their next single "Good For Life", which was written for
the New Zealand Year of the Family campaign of 1994. Credited to Herbs and Friends,
the song featured backing vocals by Kiwi stars Suzanne Lynch, of Chicks fame,
Beaver and Hammond Gamble.
Although Grant Pukeroa had taken over the drummer's stool, Gordon Joll was again
involved with Herbs in 1995, programming drum parts for a new version of an old song.
When the French Government resumed nuclear testing in the Pacific that year, Herbs
re-recorded "French Letter", which peaked at number nine. The song also marked Nepia's
return.
On their tour of France that November, members of the New Zealand All Blacks
rugby team passed copies of the cassingle to the Paris crowd after their final test match.
Also that month, past and present members of Herbs gathered at
St Matthew-in-the-City alongside veterans of the 1981 Springboks rugby tour protests
to meet South African president Nelson Mandela. The band, including an ill Fred Faleauto,
performed "One Brotherhood" off Whats' Be Happen?, written about Maori land
rights and the Springboks tour.
Tragedy struck the Herbs whanau on December 21 1995 with the sudden death of
Charlie Tumahai from a massive heart attack while working for a volunteer organisation
helping young Maori at the Auckland District Court. He was just 46.
When the band regrouped in the new year, with replacement bass player Max Hohepa
and without saxophonist Watene, it was for an Easter Sunday tribute concert to their
fallen comrade, the proceeds going to Tumahai's family. Other artists announced to
take part included Dave Dobbyn, Annie Crummer and Hello Sailor.

Herbs 1996 (left to right): Grant Pukeroa, Tama Renata, Dilworth Karaka,
Juanito Muzzio, Tama Lundon, Thom Nepia, Max Hohepa.
In the 10 years following Tumahai's passing, various Herbs line-ups would come together
for occasional performances, including the first New Zealand Womad, at Western Springs
in 1997, Sweetwaters '99 and their rendering of Dave Dobbyn's "Slice Of Heaven" at the
Australasian Performing Right Association's celebration of the top 100 New Zealand
songs of all time in 2001.
With new saxophonist Walter Bianco now on board, a veteran of the Auckland live music
scene, the event was the debut of drummer Leyton Greening, who replaced
Grant Pukeroa. The band was joined by Kiwi hip-hop star Che-Fu and Auckland singer
Lionel Nelson, a member of Nepia's sideline project TnT Music Factory.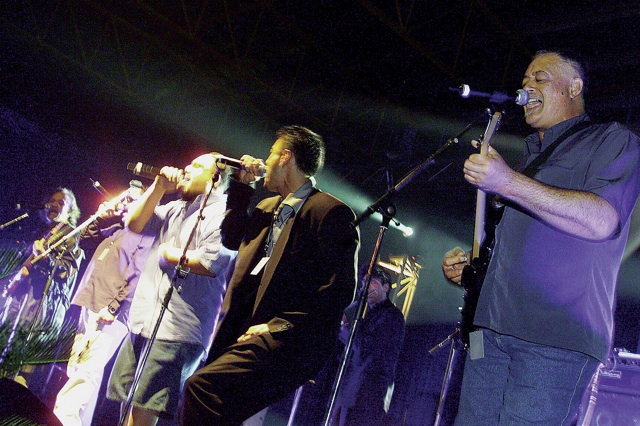 Herbs performing at the APRA top New Zealand songs event, 2001 (left to right):
Tama Renata, Thom Nepia, guest Che-Fu, Lionel Nelson, Walter Bianco (rear),
Dilworth Karaka.
Photo courtesy of APRA New Zealand.
Besides featuring on Dobbyn's song, which was voted in at number seven, Herbs made it
into the top 100 three times in their own right. "French Letter" was number 42,
"Long Ago" was 68 and "Sensitive To A Smile" was 80.
Herbs' original drummer Fred Faleauto passed away on July 26 2001. When Light Of The
Pacific was included in Nick Bollinger's 100 Essential New Zealand Albums,
published in 2009, the author praised Faleauto's distinctive drumming which had been an
integral part of the band's early sound.
Warner Music New Zealand released a revamped hits compilation called Listen: The Very
Best Of Herbs, which debuted at number one on the New Zealand album chart
in January 2002.
At the time, Karaka told the New Zealand Press Association that the band had to thank their
New Zealand fans for the achievement. "It shows that they're still out there and want
another album," he said. "We never stopped writing. The stuff that we did write, we just
stuck it in the bank."
Case in point being the wonderful "Fishnet Tights", a protest of drift-net fishing, which was
a stand-out on the Homegrown tour of 1990, harking back to the spirit of the
Whats' Be Happen? era.
"When we did our last album there were some publishing and contractual arrangements that
weren't settled, and that ended up in court," Karaka continued. "Rather than carry on
we just put stuff away and didn't bother to continue on with that company.
"The response from people now (2002) has been really encouraging. I've always believed
there was another album there, maybe two, and hopefully this one we've just put out
will kick-start us towards the next one."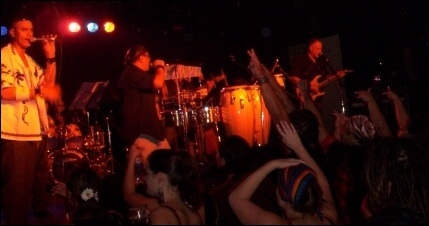 Herbs live in Brisbane, Australia, 2005 (left to right):
Lionel Nelson, Thom Nepia, Dilworth Karaka.
Photo courtesy of Maori In Oz.
Alas it never did, but around 2003, Karaka and Lundon, later joined by Nepia and
sometimes Renata, began appearing at low-key gigs, folk and blues festivals as
Herbs Unplugged. Two years later, an expanded Herbs were on the road in Australia with
countrymen Katchafire.
The trip saw vocalist Lionel Nelson and Queenstown drummer Ned Webster recruited for
their only tour with Herbs. Nelson had appeared with the band at APRA's top New
Zealand songs event in 2001 and had been an original member of Nepia's Auckland
covers and corporate band TnT Music Factory in 2000, as had Karaka.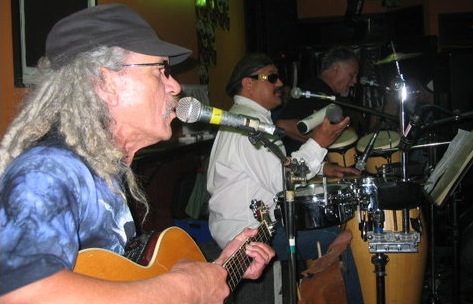 Herbs Unplugged 2007 (left to right): Tama Lundon, Thom Nepia, Dilworth Karaka.
In 2008, Morrie Watene rejoined Karaka, Lundon, Nepia and Renata, with the addition of
Ardijah father and son Ryan Monga (drums) and Kaitapu Monga (bass), for
Herbs-Ardijah double bills in Australia and New Zealand.
To celebrate the 30th anniversary of the Back Yard's renaming as Herbs, Warner again
repackaged the best-of collection as Lights Of The Pacific: The Very Best Of Herbs
in November 2008. Unfortunately, Herbs' back catalogue -- Whats' Be Happen?,
Light Of The Pacific, Long Ago, Sensitive To A Smile and Homegrown --
remained unavailable on CD.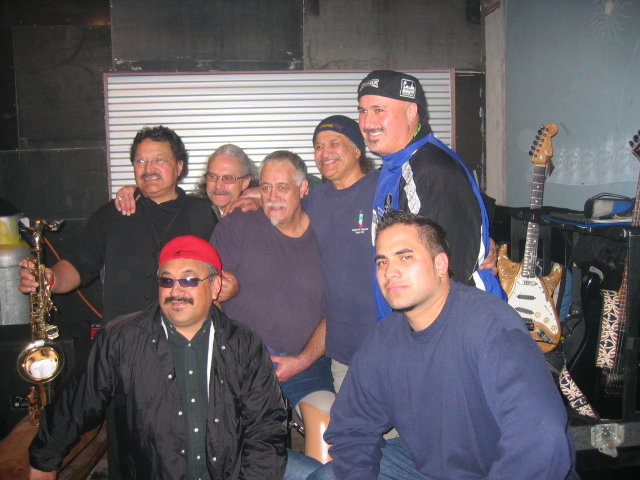 Herbs 2008 (clockwise from top left): Morrie Watene, Tama Lundon,
Dilworth Karaka, Tama Renata, Ryan Monga, Kaitapu Monga, Thom Nepia.
In October 2009 it was announced that former Herbs members Toni Fonoti, Spencer
Fusimalohi and Carl Perkins would appear under the banner Pacific Herbs, performing
the hits of their former band, at the Raggamuffin festival in Rotorua. However, days
out from the event the official Raggamuffin web site carried the message that "due to
legal action by the band Herbs, the band previously billed as Pacific Herbs will not be
performing at Raggamuffin 2010".
Fonoti withdrew when he realised the project hadn't received the blessing of Karaka and co,
but Herbs ended up spending $30,000 set aside for recording taking Fusimalohi and Perkins
to court.
Meanwhile, with the returning to the fray of drummer Gordon Joll, in place of Ryan Monga,
all surviving members of the official Herbs that toured in support of Homegrown
20 years earlier were reunited. It would not last long, though, with Leyton Greening and
Walter Bianco back in the line-up by 2012.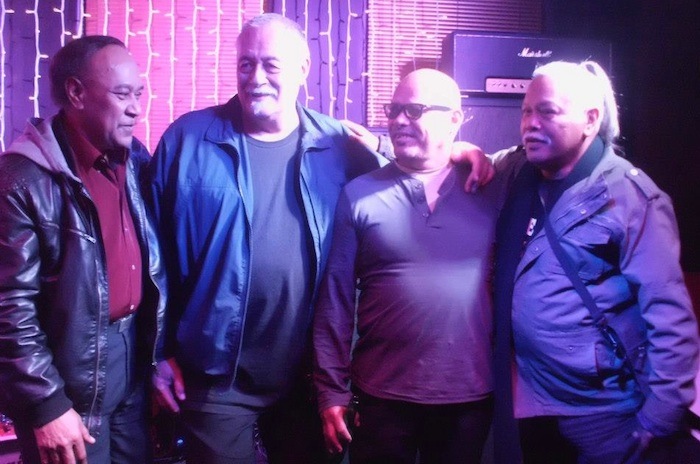 Spencer Fusimalohi, Dilworth Karaka, Toni Fonoti and Willie Hona on the eve of
Herbs' induction to the New Zealand Music Hall of Fame, 2012.
In September 2012, Herbs became the 11th inductee to the New Zealand Music Hall of
Fame for their significant contribution to New Zealand through music. On making the
announcement, APRA New Zealand writer director Don McGlashan said "the vibrant,
multicultural music scene that we now enjoy owes much of its existence to this one band".
The 17 band members inducted into the Hall of Fame from Herbs' formation through their
recording years to the mid-1990s were Dilworth Karaka, Toni Fonoti, Phil Toms,
Spencer Fusimalohi, John Berkley, Morrie Watene, Tama Lundon, Jack Allen, Carl Perkins,
Willie Hona, Thom Nepia, Tama Renata, Gordon Joll, Grant Pukeroa, Kristen Hapi and
the late Fred Faleauto and Charlie Tumahai.
To coincide with the induction, Herbs' original five album releases were made available
digitally for the first time, as well as a never-before-released 13-track Live in Tahiti
(Pacific Reggae) set from 1983 featuring the Long Ago line-up sans
Morrie Watene.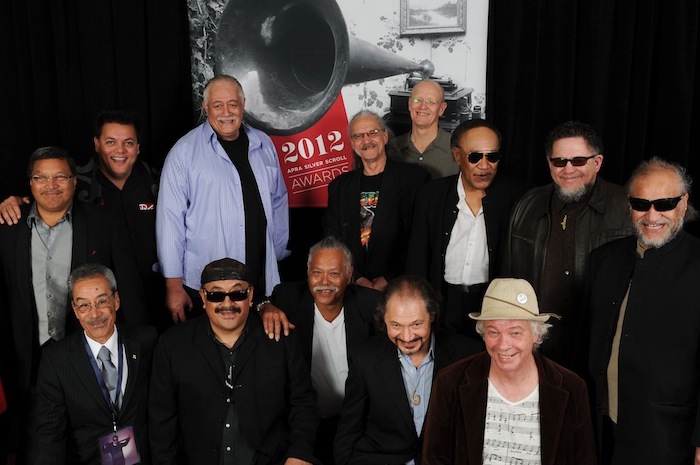 Herbs members at their induction to the New Zealand Music Hall of Fame, 2012. Back,
left to right: Morrie Watene, Grant Pukeroa, Dilworth Karaka, Tama Lundon, John
Berkley, Spencer Fusimalohi, Carl Perkins, Tama Renata. Front: Tamaki Tumahai
(brother of Charlie Tumahai), Thom Nepia, Willie Hona, Gordon Joll, Phil Toms.
Photo courtesy of Topic Photography.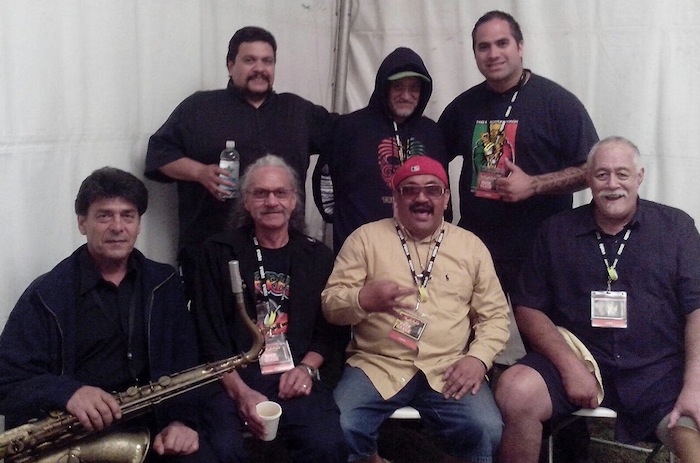 Herbs 2013 (clockwise from top left): Leyton Greening, Tama Renata,
Kaitapu Monga, Dilworth Karaka, Thom Nepia, Tama Lundon, Walter Bianco.