The new Red McKelvie album 'Ridin' On Trains'
is out now. Click here for details.
The Legend of
Red McKelvie
"Red McKelvie was the guitar player in this line-up and to this day remains one of the greatest guitarists ever in this country (Australia) – he plays on every track of the first two albums and played all those lines on "Girls On the Avenue" that people still talk about." – Richard Clapton, 2005

If you had ears and lived in New Zealand or Australia through the 1970s to the 1990s chances are you would have heard the work of Kiwi guitarist Red McKelvie. He is a legend among musicians on both sides of the Tasman Sea whose performances are unwittingly planted deep in the psyches of the neighbouring nations.
It is difficult to have existed in the Antipodes without encountering the instantly recognisable layered guitar intro to Richard Clapton's "Girls On the Avenue" -- that's McKelvie upon McKelvie -- or catchy television jingles such as Crunchie, BASF's "Dear John" or the Red Nose Day anthem "You Make the Whole World Smile".
McKelvie was an integral part of them all either on guitar, pedal steel or button accordion. He played on most country music albums released in New Zealand from the mid-'70s to beyond 2000, guested on recordings by DD Smash and Hello Sailor, as well as being an in-demand live musician in his own bands or as a sideman in all manner of musical genres.
Late in 2007, after more than 40 years in the music business, McKelvie released his debut album 'Ridin' On Trains' on the boutique New Zealand roots and blues label SDL Music.
For all his musical prowess and achievements, Red McKelvie is a humble man happy to sit quietly sidestage until called upon to rip into some Chuck Berry or add his special flavour of crying steel guitar to some hokey country ballad. He can do both and a whole lot more.
This isn't the definitive story of the legend of Red McKelvie, but, hey, it's a start. If you have more to add, some outrageous untruth to set straight or especially photos to include, don't hesitate to drop me a line.
Bertram John McKelvie was born in the lush South Island, New Zealand, city of Christchurch soon after World War II. His family called him by the name John, but from early on he was known as Red for his so-coloured shock of hair.

Red's first band (l to r): Graeme McNickel, Kevin Loughlin, Red, Nicholas Keily.
As a teenager, Red took an interest in the guitar and was shown his first chords by schoolmate Graeme McNickel. McNickel's father ran a whitegoods firm where 20-odd employees were Poms and they all played instruments.
Every Saturday night there would be a party at someone's house and Red and Graeme would sit with acoustic guitars amongst the tea chest bass, piano, harmonica and ukulele and harmonise on the Neil Sedaka and Ricky Nelson hits of the day.
The pair soon formed a group called the Crescendoes, but, in 1961, Red's father moved the McKelvie clan north to New Zealand's biggest city, Auckland. Red and his siblings bawled all the way to Wellington.
Upon leaving school, Red began an apprenticeship as an elevator mechanic, but the music bug had well and truly bitten. The success of the Beatles, the Rolling Stones and co had given birth to a thriving band scene in Auckland and McKelvie was right in the thick of it as lead guitarist for the Chelsea Beats in 1964 and '65.

The Chelsea Beats (l to r): George Brownrigg, Peter Ford, Red, Peter Savidan, Graeme Regan.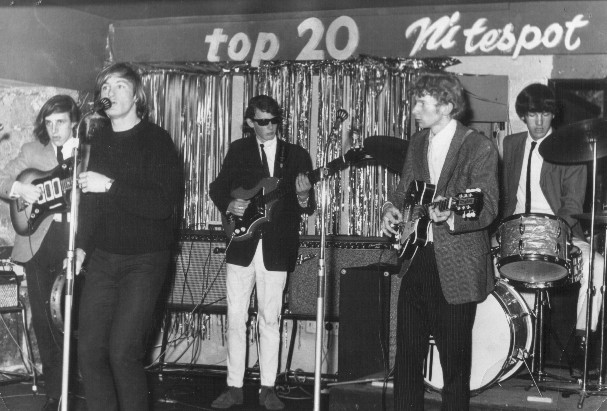 The Dark Ages (l to r): Mick Sibley, Clive Coulson, Vaughan Stephens, Red, Ian Thomson.
He was briefly a member of the Dark Ages and the Avengers before opting to try his luck in Australia. When he arrived in Sydney in 1967 it was "like another planet". He took a job as a lift mechanic but was soon 'discovered' by bassist Terry Wilkins and joined the Starving Wild Dogs after having his mother send his amplifier from New Zealand.
It was one of the best times in Red's life. The Starving Wild Dogs lived within walking distance of their Taylor Square, Kings Cross, gig where they were furnished with free beer and cider. At one rehearsal the band studied the brand-new Bob Dylan LP "John Wesley Harding" and learned three of the songs for their next gig.
Red and Terry Wilkins went on to form Quill and decided to concentrate on original material. With a fledgling collection of songs they would sometimes perform their repertoire four times a night. On one occasion they played their song about Sydney's Psychedelic Shirt Shop only to be joined by the elated shop owner who promptly plied the band with booze. Click here to read a 1969 'Go-Set' article on Quill.
After Quill supported Australia's "bubblegum band with an identity crisis" Flying Circus in Newcastle, Wilkins jumped ship to fill the vacant Flying Circus bass player spot. Soon after, Flying Circus leader Doug Rowe, another expat Kiwi, fell ill and Red was called in as a fill-in.
When Rowe recovered, Red was asked to stay on. Flying Circus are credited as one of the original links between Aussie pop music and country -- coinciding with McKelvie's inclusion at the dawn of the '70s.
The band recorded its second album with McKelvie on board, the acclaimed "Prepared in Peace", and his song "Israel" was released as its first single. He was sacked the same month for steering Flying Circus too far down the country path on the poor-selling LP. Australian rock historian Glenn A. Baker attributes the termination to Rowe's fear of a McKelvie leadership challenge, but Red wasn't getting on with Rowe or the band's management.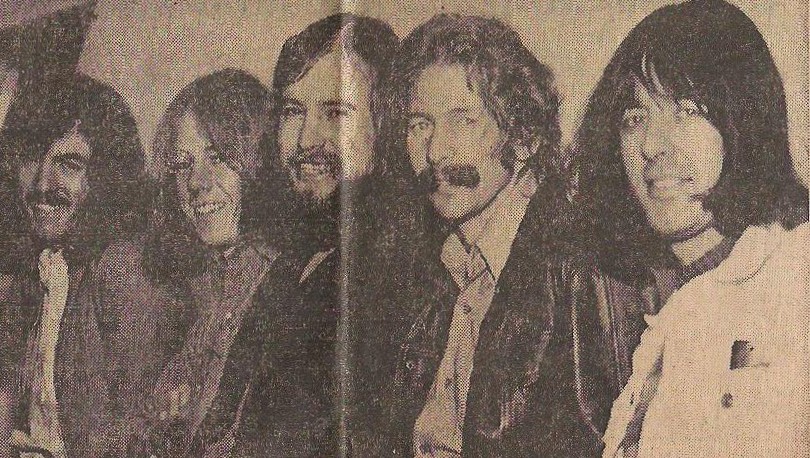 The Flying Circus (l to r): Terry Wilkins, Colin Walker, Doug Rowe, Red, Jim Wynne.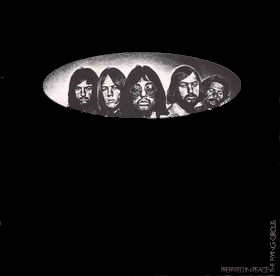 "Prepared in Peace", the Flying Circus LP featuring Red.
During his short tenure, Flying Circus had controversially beaten Beeb Birtles and Rick Springfield's Zoot in the Hoadleys National Battle of the Sounds. McKelvie briefly thought of suing the band for his share of the prize, a trip to the United States, before launching a solo career, releasing country-sounding singles "She's So Fine" b/w "Papa Joe" and "Another Country Town" b/w "Surry Hills Sunshine" on the Festival label.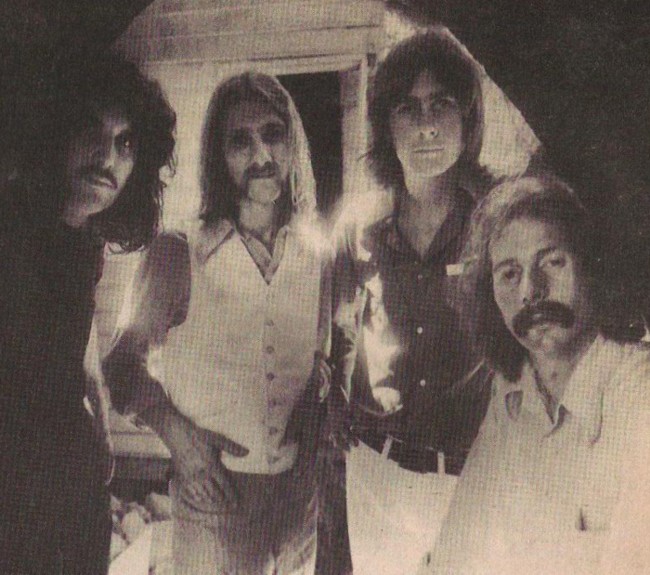 Powderhorn (l to r): Ace Follington, Graeme Lowndes, Bill Twyman, Red.
He formed country rock groups Powderhorn and Third Union Band, who were regular performers on ABC TV's "GTK" in their own right and as backing musicians for the likes of Springfield.
Third Union Band released the single "Hyway Ryder" b/w "Movin' On". Although the A side was credited to rhythm guitarist Grahame Lister due to a contractual tangle, it was actually a Lister/McKelvie effort. Lister would later gain infamy as the co-writer of the million-selling UK number one novelty hit "Star Trekkin'".

Third Union Band (l to r): Red, Harry Brus, Grahame Lister, Dave Ovenden.

Third Union Band live on the ABC. Grahame Lister on vocals, Red on lead guitar.
McKelvie did time as a sideman for Kevin King in Sydney and was a session guitarist on Richard Clapton's debut single, "Last Train to Marseilles". Both were signed to Festival Records and McKelvie was getting plenty of session work from the label's house producer Richard Batchens.
Midway through recording Clapton's first album, "Prussian Blue", and against all the advice of the Sydney music industry sages, McKelvie decided to take up an offer of show band work in Thailand.
One record company wanted him to stay in Sydney and record two instrumental albums they would pour money into, but McKelvie had made up his mind. He was sacked after three months in Bangkok for basically insisting on emulating the Byrds rather than sticking to the tried and true show group formula, and flew back to Australia.
When it came time to record Clapton's second album, Batchens pulled McKelvie aside and confessed that if Clapton didn't come up with a hit he would be dropped from the label. Batchens dispatched the guitarist with a quarter-inch tape of a new song called "Girls On the Avenue" and in less than two hours McKelvie returned with one of Australia's most recognisable guitar riffs of the 1970s.
He had intentionally left the song's intro alone, preferring Clapton's acoustic harmonics, but Batchens insisted on an electric guitar intro and ended up keeping the original Clapton part underneath.
"Girls On the Avenue" was just what the doctor ordered, helped along by no less than 12 tracks of McKelvie guitar raunch, and rose to number two on the Australian charts in 1975, held off the top spot by Bob Hudson's novelty hit "The Newcastle Song".

Richard Clapton Band (l to r): Ernie McInerney, Brian Bethell, Red, Stuart West, Richard Clapton.
To capitalise on the song's ascension, the hastily assembled Richard Clapton Band supported Don McLean in concert, without a rehearsal, and went out on the road. But trouble was brewing from the beginning with fiddle player Stuart West having to stay behind to make the band more financially viable as a four piece.
Married with a young son, McKelvie welcomed the steady work on the road, but the tour was turning into a nightmare. Bass guitarist Brian Bethell fell out with Clapton, who had never been on the road with a band before and just wanted to go home, and West's fiddle parts were missed.
Ironically, it was McKelvie who ended up returning home mid-tour when he received a phone call in Perth informing him his mother had died. He flew to New Zealand for the funeral and after briefly returning to Australia was too griefstricken to continue and went back to Auckland for good.
Back home he contemplated giving it all away until he received a call from Murray Grindlay, who was on his way to becoming New Zealand's jingles king, offering him a session and "worked for him for 20 years". The pair also teamed up in Cruise Lane, which featured future Dragon songwriter Paul Hewson.
Red's tracks "Two Guitars Playing 'Ten Guitars' Again" and the instrumental "Disco Steel" were featured alongside cuts by Grindlay and other prominent local musicians on the compilation LP "Auckland Music".
Grindlay had McKelvie lay down an acoustic guitar part for a new song called "Shoop Shoop Diddy Wop Cumma Cumma Wang Dang", but later the part was deemed "too normal" and was left off. Released under the name Monte Video, the song was a transtasman hit for Grindlay in 1982.
In the early '80s Red was signed up as resident pedal steel player for TVNZ's top-rating "That's Country" series, which attracted American stars as diverse as Little Jimmy Dickens, George Hamilton IV, Emmylou Harris and the Glaser Brothers. The programme was based in Christchurch and the weekly grind of flying from Auckland for rehearsal and filming saw McKelvie give up his spot to local player Paddy Long for series two and beyond.
But McKelvie had forged a strong friendship with New Zealand's soon-to-be queen of country music Patsy Riggir and was called upon as a member of her studio band and sometime producer.
As well as adding pedal steel to albums from New Zealand rock icons DD Smash and Hello Sailor, McKelvie was a staple on Kiwi country music releases from the likes of Riggir, Gray Bartlett, Michael-Roy Croft, Lynne and Celine Toner and Brendan Dugan.
By the late 1980s, he had joined another former Cruise Lane alumni Al Hunter in the Al Hunter Band. With McKelvie on pedal steel and guitar, session player Cath Newhook on fiddle, and Hunter's expressive, authentic vocals, the band was Auckland's premier country unit.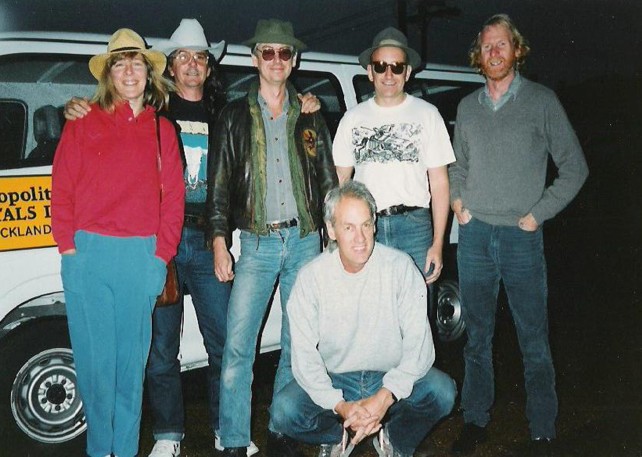 On tour with the Al Hunter Band (l to r): Cath Newhook, Al Hunter, Glenn 'Fernando' Campbell, Alastair Dougal, Red, Ian Thomson in front.
The Al Hunter Band held a jam-packed Saturday afternoon residency at Newton's King's Arms Tavern into the early '90s and McKelvie co-produced Hunter's second album, "The Singer", before Hunter drafted a new line-up and McKelvie pursued his new passion for Cajun music.
He had slowly been introducing the button accordion into songs in Hunter's repertoire, but his intention was to form a full-on Cajun band, if only he could find a singer silly enough to phonetically take on the pidgin French lyrics. New Auckland arrival Glen Moffatt was just silly enough.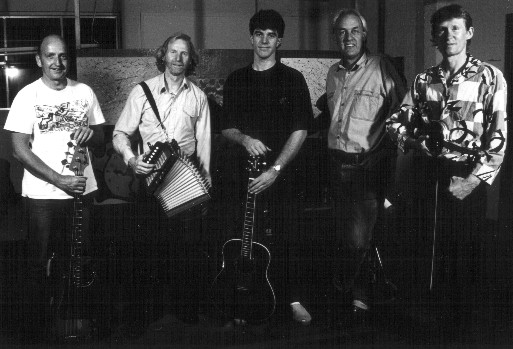 Mumbo Gumbo (l to r): Alastair Dougal, Red, Glen Moffatt, Ian Thomson, Jono Lonie.
With Moffatt on vocals, former Flying Nun recording artist Jono Lonie on fiddle, Alastair Dougal on bass and Ian Thomson, who had first played with McKelvie in the Dark Ages almost 30 years previously, on drums, McKelvie launched Mumbo Gumbo onto unsuspecting Auckland patrons in the early '90s.
The band was soon adopted by the plethora of Irish pubs in the city, due to the similar instrumentation to but just different enough from the regular Irish bands. However, Lonie's influence saw Mumbo Gumbo introduce more Irish material and, with the departure of Moffatt and Thomson, evolve into wholly Irish line-up Poitin. McKelvie was eventually sent packing and the band became Feck.
During this time, McKelvie kept his country chops up as a member of Glen Moffatt's Guns For Hire and played acoustic, electric and pedal steel guitars and accordion on Moffatt's 1995 debut album "Somewhere in New Zealand Tonight". And he began writing songs again, contributing the tracks "The Nature of Love" and "Friday Night" to the Sun Pacific label's 1995 compilation CD "Deep in the Heart of the Pacific".
There was proof around the same time that McKelvie had passed on the musical gene when his son, Chris McKelvie, became a touring and recording member of the Greg Johnson Set and also recorded with former Th' Dudes singer Peter Urlich. The younger McKelvie's musician mates saddled him with the nickname 'Orange'.
Now into his 50s, the Canterbury Plains were calling McKelvie home. In 1997, when he received the offer of two months' work in Timaru playing pedal steel in a play based on the life of Patsy Cline, he packed up his musical instruments and settled in the town, south of Christchurch.
It took him a good two years to break into the parochial South Canterbury music scene and he was kept alive in the interim with busking gigs in Big Fresh supermarkets in Dunedin and Christchurch.
Since the dawn of the new millennium, Red has toured New Zealand with Kiwi country queen Patsy Riggir, veterans Gray Bartlett, Brendan Dugan and Jodi Vaughan and Australia's Adam Harvey.
Following decades playing a major role in bringing the recording projects of others to fruition, Red McKelvie released his solo debut album late in 2007.
© 2005-2008 Glen Moffatt. All Rights Reserved.