Home The Albums The Sounds The Benefit The Inlaws The Disturbance
Ritchie Pickett - the story
Ritchie Francis Pickett
February 16, 1955 – March 13, 2011
Introduction
When asked in a radio interview during the 1990s what he would do differently were he able to live his life again, Kiwi country music tearaway Ritchie Pickett proclaimed he would "take more photos".

There were no regrets for this acclaimed New Zealand musician and songwriter who had cheated death on several occasions -- beaten cancer, walked away from car wrecks and survived life on the periphery of the deadly Mr Asia drug empire -- but finally lost his battle with the bottle, passing away peacefully in his Cambridge home on March 13, 2011, at the age of 56.

He had rarely worked since 2007 when his internal organs protested decades of hard living and put him in intensive care reportedly with just days to live. The fact he had been rushed to hospital after collapsing over his piano mid-show made it all the more dramatic.

Again Pickett beat the odds on that occasion and a year later was back in the studio as part of Waikato supergroup the Rattler, featuring former members of Knightshade and the Furys. The fruits of those sessions were released mid-2009 on The Leaving, named for one of Pickett's most beautiful ballads.

It was to be the final part in a recording history that saw just five albums released over 35 years despite apparently several hundred projects and demos shelved because Pickett did not deem the results satisfactory. The musicians and engineers involved would often beg to differ.

The album added to a sporadic output dating back to Think's We'll Give You A Buzz in 1976, and included 1998's All Strung Out In A Bunch. In a 1998 interview, he called the latter his songwriting calling card. "It's a scattering of different styles, a bit of everything. There is a common thread through it, it's Pasifikan funktry."
It was also an attempt to get away from the perception of Pickett as the piano-thumping wild man of Kiwi music. "I played mostly guitar. It was deliberate to stay away from the piano dink-da-dink da-dink da-dink, and just show that I write, cos most people perceive me as being a hard-out piano player."
Mind you, it's an image Pickett hadn't been slow in cultivating over many years of live work. The performance always betrayed the fact, but he said he's very seldom comfortable live. "Probably because you don't get the audience you want. You have to have an audience waiting to hear you do something. Quite a lot of my audiences will put up with my material and my ballads waiting for the piano thumping."
Live album The Wicked Piano Pumpin' Pickett, released in 2004, put him firmly back behind the piano for a collection of the choice cuts from his previous albums, including a tender reworking of Gone For Water's standout Yes, We'll Leave the Lights On, and a handful of unreleased songs.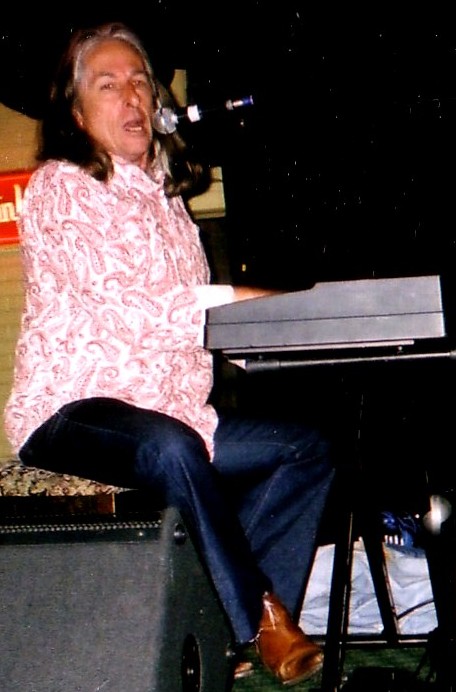 It seemed he had become more at ease with the piano-thumping image, while his audiences were a lot more accepting of his wonderful original country ballads than he gave them credit for. But perhaps echoing the earlier confession of seldom feeling comfortable playing live, he said rather than being released, the live album actually "escaped".
The fact is Pickett, born February 16 1955, was one of New Zealand's most prolific writers, who filled the years between 1984's Gone For Water and 1998's All Strung Out In A Bunch bringing projects to the verge of recording only to see the chance slip away.
He said although he considered it a country album, All Strung Out In A Bunch was not a follow-up to Ritchie Pickett and the Inlaws' landmark Gone For Water LP. "The follow-up album for Gone For Water was recorded, demoed with the Inlaws, and I thought it was a good album. But we never got to finish it, the band exploded before then." Pickett rated it better than the group's debut. "It was more focused, more a band thing. Gone For Water was more me."
All Strung Out In A Bunch was recorded at the Zoo studio in Hamilton and Incubator in Auckland. One track was recorded on a cassette player "years and years ago".
"It's got some classic country stylings. 3am Hamilton Sunday Morning is one of the best country songs I've written. That's a true story about walking home drunk. All the street names and everything was just as it goes in the song as I walked home. Down to the old drunk telling me about the war."
Pickett also labelled some of the material weird. "Thanks For The Reefer, Ross is probably my favourite. That's a really weird song. That's got that 5/8 feel at the start and I play trumpet over the start."
Some of the weird ones were left off in a farming down from 16 to 10 tracks. "Some were inappropriate, not for me but for people who heard the album. The overview was it sort of moved too far away from country."
Early Years
It was country music that first touched the life of Ritchie Pickett in 1950s and '60s Morrinsville, New Zealand. "Hank Williams is the core of everything for me. I firmly believe that Hank Williams was as much blues as he was country as he was rock and roll. Y'know, he was a complete being: songwriting, performance, everything. He was a rocker."
Pickett's earliest musical experiences were jam sessions around the piano of cousin Jack Pickett with the Pickett family band. Young Ritchie played a home-made snare drum and kept his eyes glued to the influential cousin Jack's dancing fingers.
At age 11, his first band, The Lymit, played at the Morrinsville Marching Girls' end of year wind-up. It was the first in a lifetime of gigs, although back then the repertoire was strictly covers. "A lot of it was Beach Boys cos, as our voices hadn't broken, it was just natural, we could do the high harmonies."
By the end of the 1960s he was in a heavy metal band called Cunus Lupus, but it was old-time rock and roll and George Lucas' 1973 film American Graffiti that initiated Pickett's breakout to a national audience. "I met a guy who was going to university in Hamilton, Glen White, and we formed a rock and roll revival band. When the movie American Graffiti came out we were on the road as Graffiti by then."
Often teamed up with Tom Sharplin, Graffiti would play every day of the year except Good Friday and Christmas Day. They would spend Monday to Saturday in one pub, and drive to the next on Sunday. Crowds of 200 weren't uncommon for Monday nights, building up to 600 or so by Friday. "In those days it was entertainment, and now you've got videos. You didn't have the electronic medium we have now."
Graffiti ground to a halt and Pickett joined South Auckland's Hot Ash, fronted by the songwriting talent of Rod McCauley. The band put out a few singles before Pickett was sent packing after a massive backstage fight.
After drummer Johnny Drinkwater introduced him to the New York Dolls, Pickett re-formed Graffiti but it was a far cry from the original concept. "We put on make-up and dresses and teased our hair. It was generally very relaxing to be able to dress up a bit. We'd get hassled and beaten up quite a bit by the truck drivers who all thought we were faggots, couldn't understand how I knew what the rugby score was."
Songwriting
Pickett was by now starting to flex his writing muscles after the short stint with McCauley in Hot Ash, and the efforts were infiltrating Graffiti's song list. But the band was more into living the rock and roll lifestyle so Pickett jumped at the chance to join legendary New Zealand heavy metal/prog rock band Think.
"Think was a good band, great writing. That was Alan Badger and Phil Whitehead, Don Mills, Neville Jess. That's where I learnt how to write. I learnt there were no rules." Think's We'll Give You A Buzz album on Atlantic Records still fills Pickett with pride when he thinks of his songwriting credit revolving on the turntable beneath the Atlantic moniker.
The keyboard skills of Don Mills were also inspiring. "Between Don Mills and Jack Pickett, that was the hands-on actual thing." Pickett was primarily Think's singer who played the occasional guitar. "Basically, I was just a fuckin' good dancer."
A tour stop in Napier brought a Think tale of Spinal Tap proportions when Pickett bought a carton of sherbet and, after devouring three quarters of a preserving jar, was rushed to the doctor "literally fizzing at the butt".
Crossing the Ditch
Think won the New Zealand Battle of the Bands and the Grunt Machine songwriting contest, and part of their prize was passage to Australia and two gold microphones.
The band and entourage ended up stranded on the wharves of Sydney waiting for Atlantic's Australian representative to meet them. "We'd sold up everything, moved to Australia, had nowhere to live, expecting this record company to come and whisk us away to our palatial mansions. They didn't want to know about us."
The company's New Zealand head at the time, Tim Murdoch, suggested they got down to Bondi and found themselves a rich woman. So much for record company support. Before they could, Pickett was kicked out of Think for being too country.
"I'd heard Elvis Costello, and I realised the song was alive. Him, Graham Parker and the Sex Pistols really turned my head around, put me back in touch with songs. Pop music was joyous again instead of being 'the guitar player is going to do a 20-minute solo followed by a 20-minute solo by the keyboard player'. Elvis Costello showed me you could be tough and still be sensitive."
He sent for New Zealand musicians to cross the Tasman and join his new band, Snuff, although the music was becoming less and less important than the next score. "I got tied up at the same time with some very unsavoury characters in the New Zealand and Australian underworld, which eventually led me to being invalided to Waikato Hospital."
It was 1981, his career had seized up in a haze of substance abuse, he was riddled with cancer, and his acquaintances were dying in increasingly suspicious circumstances. "I literally woke up in Waikato Hospital and couldn't remember the last three or four years," Pickett says.
He was diagnosed with liver cancer, and claims the substance abuse probably saved his life because it slowed the disease. "That time was so fuelled with abuse that the actual cancer just took a back seat.
"I was just so lucky that I got out of that. The cancer thing saved my life in more ways than one. It was a terrible treadmill. Lots of people around me were killed and buried under airports."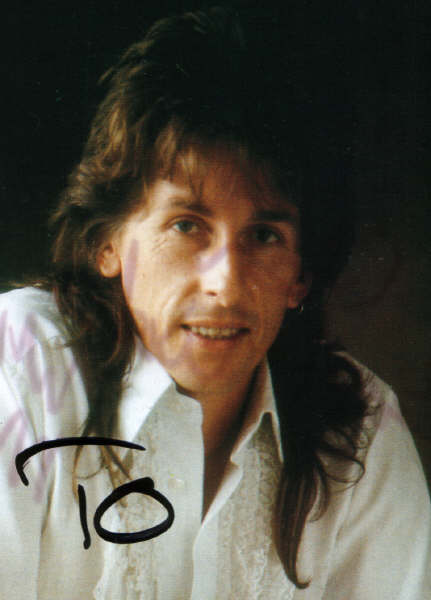 Hard Country
After a botched operation which, more than 20 years later, still generated as many 'Ritchie is dead' rumours as there were 'Paul is dead' ones, Pickett left hospital on crutches minus a third of a liver, swapped substances and fell into hard country music.
The piano saved his life. "Cos I couldn't stand up and play the guitar, so I sat at the piano and started playing, and just started getting into writing. It was all just country stuff.
"During the '80s I swapped one form of abuse for another." The day he got off crutches he hobbled to the bottle store and bought a bottle of Scotch. For the next few years he'd down a bottle or two a day.
Morrinsville country identity Bernie Eva provided another musical revelation for Pickett when he played him an entire Merle Haggard album for the first time.
Still recovering, Pickett was made New Zealand Country Music Association musical director, became a regular on the final years of TV's That's Country and formed Ritchie Pickett and the Inlaws with Dave Maybee.
"I toured a lot with the Inlaws. We'd get the people come along who'd seen me on That's Country. But That's Country wouldn't let me do any of those [original Inlaws] songs." As was the show's policy, the artists performed what they were told and dressed as they were told. "I didn't want to tuck my pants in my boots," Pickett laughed.
"In fact, after That's Country had gone down and finished, I ran into [producer] Trevor Spitz somewhere and he came and caught part of our show with the Inlaws. He said, 'Why weren't you doing that on That's Country?' I said, 'Well, you should know, I submitted the songs.' But they only ever took the covers.
"I did some fuckin' horrendous things on TV in the '80s. I was just ashamed of myself. You did what you were told to get on TV, cos if you got on TV you made more money."
That's Country host Ray Columbus encouraged Pickett's songwriting and set up an album deal for the Inlaws with RCA. At a time when New Zealand country artists were bringing out insipid rehashes of the latest Nashville pap, Columbus produced the Inlaws' vibrant masterpiece Gone For Water. But before the band could truly capitalise, the Inlaws blew up.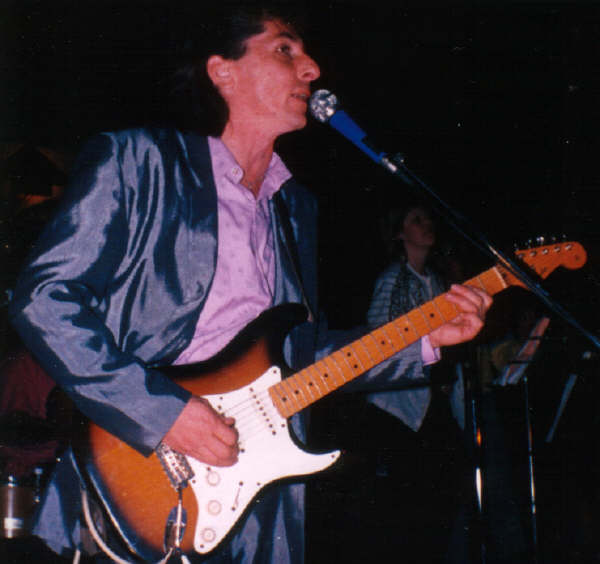 The Jones Boys and beyond
Pickett took another band to the brink of a recording deal when he and bass guitarist Chris Gunn fronted the Jones Boys in the mid-1980s. "Chris Gunn is a guy that's always been like a half-brother to me musically. If we'd been able to get what we had going in the 1980s, if we'd been able to put that in front of the public on a bigger scale... That was a good band, and he and I complemented each other well.
"We had the Jones Boys, which was a seven piece, eight piece, with brass and girl singers, and we were doing some great stuff, originals and stuff like that. Ross Sutton was gonna manage us. People wanted to record us, but he said, 'No, you're not ready yet,' and within a month he'd turned that band into a three piece with him on drums. He ignored all the recording and turned those bands into cash cows. He didn't really care about the long term, and drove a wedge between the players."
Other bands came and went and Pickett kept up an exhausting amount of live work through the country, either with his various line-ups or with Tom Sharplin again, always about to release a new single or album. He never had to take a day job but had "had some very supportive girlfriends and wives". Through thick and thin, the music stayed constant.
He said it was about soul, "which I think country music is. Truth -- you can bare yourself to a certain extent. The essence of a good country song is the honesty of it, like Guy Clark, Townes Van Zandt or Merle Haggard.
"You have nights when everything clicks and goes right. In terms of writing, I'm always striving and I'm not sure what it is for. Sometimes late at night with the neon light reflecting off the Trader Inn sign outside my window, I get it right. I get it fuckin' right."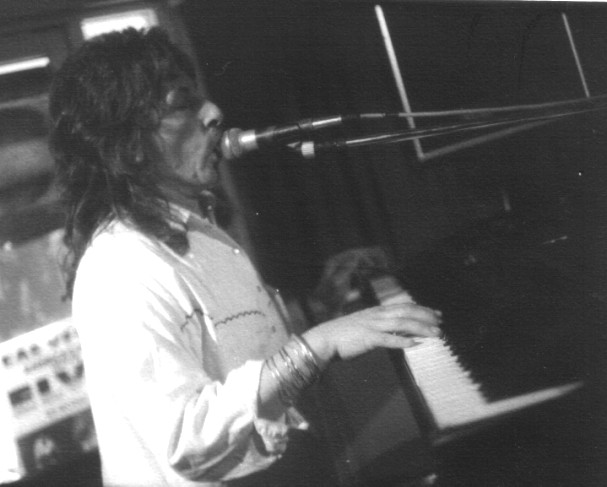 Photograph by Billy Lawry.
© 1998-2011 Glen Moffatt. All Rights Reserved.