Home The Story The Albums The Sounds The Benefit The Inlaws
Ritchie Pickett - the Disturbance
The following appeared in the Bay of Plenty Times on March 20, 1991.
By Jo Crowley
His life so far reads like a storybook. A book as diverse and enthralling as a modern-day thriller.
And yet it's a life that in one sense is just beginning. Another chapter drawing to a close; one wonders where the next one will lead.
His name is familiar to most people in New Zealand. And yet if you asked each person why -- they would come up with many different reasons.
Because, through his many chapters, this musician of many has captured a new audience, a new generation.
The man is Ritchie Pickett, frontman for Tauranga band The Disturbance.
Disturbance is the latest of many combinations Pickett has been a part of in his many, many years of music.
Pickett and the Disturbance are making big waves around Tauranga musically, both live and on air.
But the interest goes further afield than this musical den.
The group is at present looking at three contracts. Pickett this month heads for England to secure work for his band and is already confirmed to play at the World Expo in Spain next year, finance courtesy of the New Zealand Expo Commission.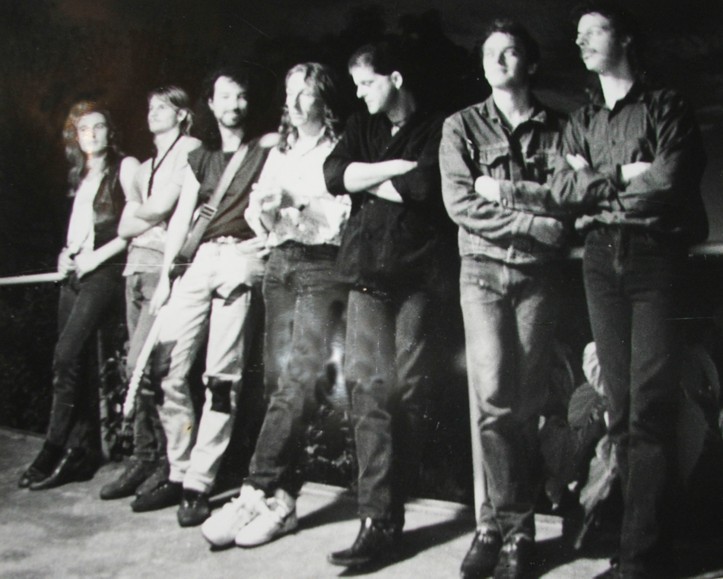 The only known photo of the Disturbance. Left to right: Damien Forlong, Ricky Harris, Derek Jacombs, Ritchie,
John Terry, James Fleming, Grant Winterburn.
A bright future, it seems. A future that also looked bright for Pickett as a youngster. Even as a nine-year-old, Pickett showed the qualities that would years later ensure he was a household name.
"I was about nine when I first realised I wanted to be a musician," Pickett said last week.
"The Beatles were very big then. By the age of nine I realised I was going to have a really big nose, and Ringo (Starr) had a big nose, so I could see the possibilities," he joked.
Pickett's on- and off-stage wit is as popular as is his music.
"So I got drums first and I had my first band at 11," he said.
"We (Lymit) were the novelty act around Morrinsville."
At 11, when most young boys were looking to paper runs for a bit of extra pocket money, Pickett was earning $30, playing two nights a week.
"We were very popular with the ladies," he said.
By 12, he had played live and written his first song.
Throughout his school years, Pickett was involved with many different bands, each going through many line-up changes with Pickett sticking through them all.
He was still drumming, but had also moved to vocals "depending on whether I had a broken arm or not," Pickett said.
"If I had a broken arm, I'd sing, If I didn't I'd play drums."
Pickett spent a lot of time singing. In all he had nine broken arms...we won't mention the legs.
Pickett grimaces when he recalls the fact that his first groups only ever had two amplifiers for the whole band. Guitars, bass, everything, ran into the same amp.
He also played bass in his latter school years and discovered the organ. And so the piano tuition he had despised as a youngster paid off.
"You never saw a piano or organ in those days," Pickett said. " The Beatles didn't have a piano or organ. Then (at about 15) I started playing an old Jansen Transonic organ. I thought I was the bee's knees. My piano-teaching paid off."
On leaving school, Pickett was offered a position in a semi-professional band in Hamilton.
As a 17-year-old he was bowled over at the prospect of playing with "really old" (actually only 25- to 26-year-olds) guys who had been playing for years.
Every Thursday, Friday and Saturday one of the guys in the band who lived in Morrinsville would drive Pickett to Hamilton for gigs. That stint lasted one month.
"They wanted me to play keyboards," Pickett said. "I did it to get into the band. I wasn't good enough in the end."
And then Pickett got a fulltime job, working nine to five at a shop selling whiteware appliances and music goods.
If first impressions were anything to go by, Pickett struck gold on his first day.
"A lady came in and bought a deep freeze, fridge...she outfitted her whole house," he said.
When he told his boss of his first day wonder sales, his jaw dropped open, Pickett said.
"He thought I was a golden boy who couldn't do anything wrong," he said. "I don't think I sold anything after that."
Pickett's career as a salesman was short-lived in more ways than one. After three months he was offered a flat in Hamilton and it was time to move on.
From there the seeds were sown for Pickett's first "major" band, a rock and roll revival group he co-formed with Glenn White.
"No one else was doing rock and roll revival apart from the 1963 Memorial Rock and Roll Society Band, which went on to become the Red Hot Peppers," Pickett said.
After a succession of bass and drummer changes, Graffiti, as the band was called, was ready to go.
They found themselves a manager and prepared to take on the world. Little did they know that their youthful dreams would soon become a reality in New Zealand.
But it wasn't until they played a New Year's Eve gig at Kawhia with a "failed ballad singer" that their dream moved up a gear.
The "failed ballad singer" was none other than Tom Sharplin, who is now recognised as New Zealand's king of rock and roll.
Some time after the gig, Sharplin's manager got in touch with Graffiti's manager, Dennis Paul, asking him to send the boys up to Auckland for an audition. The idea was to put together a "rock and roll package".
Graffiti "fluked" the audition.
Pickett was filling in for the bass player, who was sick, and watching in the audience were "these big names from successful pop bands," Pickett said.
"Here we were, these 17-year-old kids from the provinces," he said. "But we got the gig."
Tom Sharplin and Graffiti went on the road -- and stayed there. "In two years there were only four days we didn't play," Pickett said.
"We toured non-stop up and down the country. Every three months we'd go back to where we'd been before."
In those days it was possible for a band to "survive" on the road. It was normal for the band to perform six nights a week and then on the Sunday Graffiti would move on to the next town.
"We had some amazing attendance records," Pickett said. "They were wild, wild times -- not relatable in print," he laughs.
Sharplin in that time put out two records, but Graffiti wasn't involved in that side of the business.
"We were into parties, etc," Pickett said. " Those times are a book waiting to be written."
After two years, Tom Sharplin and Graffiti played their final gig at the Terminus Hotel in Timaru. They went out in style, Sharplin doing his act from a coffin and Graffiti in fancy dress.
Pickett moved on to join husband-and-wife-based combination Hot Ash in Auckland. The group put out a few records, but personality clashes saw Pickett move on -- or back as it turned out.
Back to Graffiti. Pickett reformed the group and took to the road again. While with Graffiti this time round, Pickett started tuning into another hot group -- Think.
Before long, he had an offer to join the group, an offer he jumped at. And so began another chapter in the life and times of Ritchie Pickett.
This chapter though was to transport him to the top in New Zealand, and then even further to the greener fields of Australia.
Think was a huge step for Pickett. The band toured with a huge PA and lighting rig. They even had roadies "such luxuries", Pickett recalls. Think were the cult underground heroes.
The group was on a roll. It won the nationwide Battle of the Bands. Winning the battle back then was some achievement and the band was rewarded accordingly. Or so it seemed at the time.
It looked as though everything the young musicians had dreamed of was coming true.
Along with winning two gold microphones and a boxload of records, Think won a trip to Australia. Who could have foreseen the pit the group was about to fall into?
Their trip to Australia turned into a nightmare. "What we didn't realise was we were going to Australia on the 'Oriana'," Pickett said. "And we had to play on board on the way over.
"None of us were very good sailors. Our PA was just stacked up and the first time we hit the water -- off it went.
"Anyway, we landed in Australia, 13 people in the entourage and a couple of tons of equipment.
"We were waiting for WEA to pick us up and take us to our accommodation. No one arrived. We rang WEA and realised no one was expecting us. There we were, stuck with no money, no place to stay, on the docks in Sydney."
Luckily enough for them, a WEA rep, off his own bat, picked the guys up and found them two rooms in Kings Cross. Pickett said they "begged and borrowed" off friends and relatives to get by.
The memories aren't good. "We shared this place with this psychopathic Dutchman and his wild wife," he said. "Between trying to stab us and seduce us...
"Unanimously we all decided we'd settle for a quick stab. It was a real eye opener."
The band resorted to chasing up rubbish collections to get bits of furniture for their flat. They were on the bones of their behinds. The glory of their New Zealand win was miles away.
"Then we got a gig at a huge disco," Pickett said. "Before we went to play we were down to one potato and a packet of rice risotto and enough petrol in a borrowed truck to get to the gig."
Their new-found employment lasted one night. On arriving at the venue the group that specialised in Pink Floyd-style music was confronted with girls on one side of the hall, and guys, white suits and gold chains, on the other.
It was the days of disco. John Travolta look-alikes were everywhere. And Think was way off base.
"We just bombed out so badly," Pickett said. "But we made enough money from the gig to keep us going another week."
Eventually the band managed to get gigs in keeping with their image and gradually they developed a following.
They were working in the same venues that Australian favourites such as Flowers (now Icehouse) and Midnight Oil played.
Just when it seemed the guys were back on their feet, the group parted ways. "Australia just killed the band," Pickett said.
Pickett, meanwhile, had started to take an interest in the punk music that was starting to take hold of the airwaves.
"I was heavily influenced by Elvis Costello, Stranglers and a few other new wave bands of the time," he said.
Another band was formed with Pickett sending over to New Zealand for a couple of musicians.
What the group didn't know at the time was that their manager happened to be "one of the head honchos in the Mr Asia organisation."
All of a sudden, Snuff, as the group was known, was "on the periphery of this sort of thing," Pickett said. "The resulting combination of working with and for people like that, the band developed problems," he said.
"I got ill and came back to New Zealand in 1980 basically to go to Waikato Hospital."
Pickett was given a month to live.
"Liver dysfunction, cancer, etc," he said.
But as his will to live gradually gave him strength, his interest in country music flourished.
From that interest, Pickett soon turned into a nationwide phenomenon, appearing regularly on television in 'That's Country' and travelling the country presenting awards and producing recordings for other country music people.
And then in 1981 he moved to Tauranga and married "a delightful woman", Charmaine Cummins.
But the urge to get back into a band proved too strong and Pickett was soon looking for a new line-up.
That line-up, Ritchie Pickett and The Inlaws, was the first modern country rock band in New Zealand.
"The band had very traditional roots," Pickett said. "Most of us had a bit of a rock background."
The Inlaws was voted most popular band in New Zealand and Pickett the best new male vocalist of 1984.
After many trips up and down the country, The Inlaws, too, disbanded.
With the birth of Pickett's daughter, Jordan, he had to re-evaluate whether he wanted to be on the road so much.
"At that stage, Jordan, was, and still is, the most important thing in my life," Pickett said.
"I decided to curtail touring as much as I could.
"I started working more and more in the piano bar of the St Amand which I started in 1981. Whenever I was home I used to alternate weekends with Lee Cameron."
And then it was time to form another band. With the likes of Chris Gunn and Ray Mulholland in the group it soon picked up a following. Using a succession of silly names such as Horace Truck and the Frightening Kenworths, the group kept on improving and from that core the Jones Boys evolved.
The group was going great guns and was on the verge of a record deal when things went wrong. Management problems led to the Fat Band, as it was then called, and Pickett parting ways.
Between the Jones Boys and Disturbance, Pickett worked with various singers, including Ray Columbus. He was offered work in Auckland, but he wasn't keen to leave Tauranga and the "camaraderie among Tauranga musicians which started building up in the '80s.
"There's this gigantic pool of musicians -- there's nowhere else like it in New Zealand," he said.
Pickett reformed the Jones Boys and "toured and toured and toured some more".
Ill health saw member Sid Limbert pull out and Pickett turned more to songwriting.
And then came the opportunity to work with Disturbance's John Terry.
"We've always been good mates," Pickett said. "I liked his singing and writing." The pair clicked and Disturbance was born.
"Derek Jacombs is still with us and we've got two of the best young players I've heard in a long while -- James Fleming and Grant Winterburn," he said. "Grant is a borderline genius.
"And the horn section is led by Damien Forlong."
His life seems much longer for all that he has crammed into it, but for Pickett the book could just be beginning.
Who knows where Pickett will be this time next year, and, indeed, 10 years down the road.
One thing is for certain though and that is Ritchie Pickett has already made a mark in the New Zealand music history books with plenty of chapters left to fill.
© 1998-2011 Glen Moffatt. All Rights Reserved.