glenmoffatt.com
Home // Bio // News // Gig Guide // Discography // Galleries // Media
Lyrics // Band // Heroes & Friends // MySpace // Contact/Mailing List
Kris Kristofferson As if writing "Me And Bobby McGee" wasn't enough he follows it up with "Help Me Make It Through The Night", "Sunday Morning Coming Down", "Why Me (Lord)"...
Dwight Yoakam Taking country back to Bakersfield and making it all the better for it.
Steve Earle 'Guitar Town' and 'Exit 0' are as close to perfect as a man can get.
Ritchie Pickett New Zealand's answer to Hank Williams, without the death-at-29 part.
Red McKelvie Legend.
Herbs Quintessential exponents of Pacific reggae.
Amazing Rhythm Aces Two words -- Russell Smith.
Emmylou Harris The real thing.
Gram Parsons Discovered the real thing, turned the Byrds country, taught the Stones how to sing it, hired Elvis' band, 'Grievous Angel', gone too soon.
Michael Nesmith If you think he was just the Monkee with the hat, check out 'Magnetic South', 'Loose Salute', 'Nevada Fighter'.
George Jones THE singer.
Hank Williams Invented it all.
John Hiatt The songwriter's songwriter.
The Band THE band.
Kasey Chambers Raised on it and showing its birthplace how to do it properly.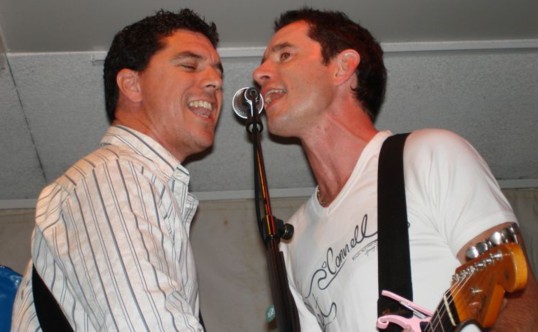 Glen with Chet O'Connell.
Ritchie Pickett More great songs than you can shake a stick at.
Chet O'Connell Knows almost as many Kristofferson songs as me, but a hell of a lot more Waylon.
Red McKelvie Gave me my break in the City of Sails.
The Smokin' Crawdads The hardest-working band in showbiz.
Al Hunter One of New Zealand's finest songwriters and singers.
Michael Muchow Too big for Brisbane.
Clark Reid The down-under outlaw.
Noel Parlane New Zealand country music's gentleman.
Brendon Ham Keeping the flame burning in Auckland, New Zealand.
Scoop de Loop Home of me mate Neil Hannan.
Topp Twins What more can one say?
Kylie Harris She's trod the boards at the Grand Ole Opry, folks.
Bill Chambers He and Di raised Kasey right, picks guitar like a demon.
Camille Te Nahu Voice like a bird.
Dennis Marsh Great taste in Kiwi covers.
Larry Killip Great co-writer with an ear for a hook.
Michael Fix Award-winning Australian acoustic guitar master.
Kevin Greaves Son of Rusty.
Lex Greaves & Midnite Special You haven't lived until you've heard Michelle Greaves sing "Blue Kentucky Girl".
James Intveld California country with a twist of Elvis.
The Alibis Wayne Baird and the boys.
The Outlaws Band The family that plays together stays together.
Gary Harvey Band Texas boogie in the land of the long white cloud.
New Zealand Music Services Directory You want to know about the New Zealand music industry, go no further.
---
---
© 2000-2008 Glen Moffatt. All Rights Reserved.

Website by ProductioNZ Ltd